FLOOD WALLS
Self activating FLOOD WALLS (flood barriers) – trafficable water barrier designed and manufactured in Australia.
Click image to enlarge
The supplied product is black and metallic in colour
Trafficable Flood Prevention

Applications: Domestic, commercial and industrial access points including but not limited to driveways, basement carpark ramps, levees and property protection.

Installation: Hidden below ground level, the small surface area is independent of the flood walls height. The design is a self contained unit eliminating the need for deep trenching and remote service pits.

Operation (activate): Self activating, floodwater is intercepted by surface grates  and collected  in an underground chamber, as the chamber fills with water a buoyant barrier raises to the surface.

Operation (deactivate): The chamber does not free drain to the stormwater network, this is to prevent surcharging which could raise the flood walls earlier than necessary.

Maintenance: A submersible pump is used to drain water out of the chamber and can be accessed from ground level without removing the flood walls.

Product Dimensions
Any size, retrofit and new installations.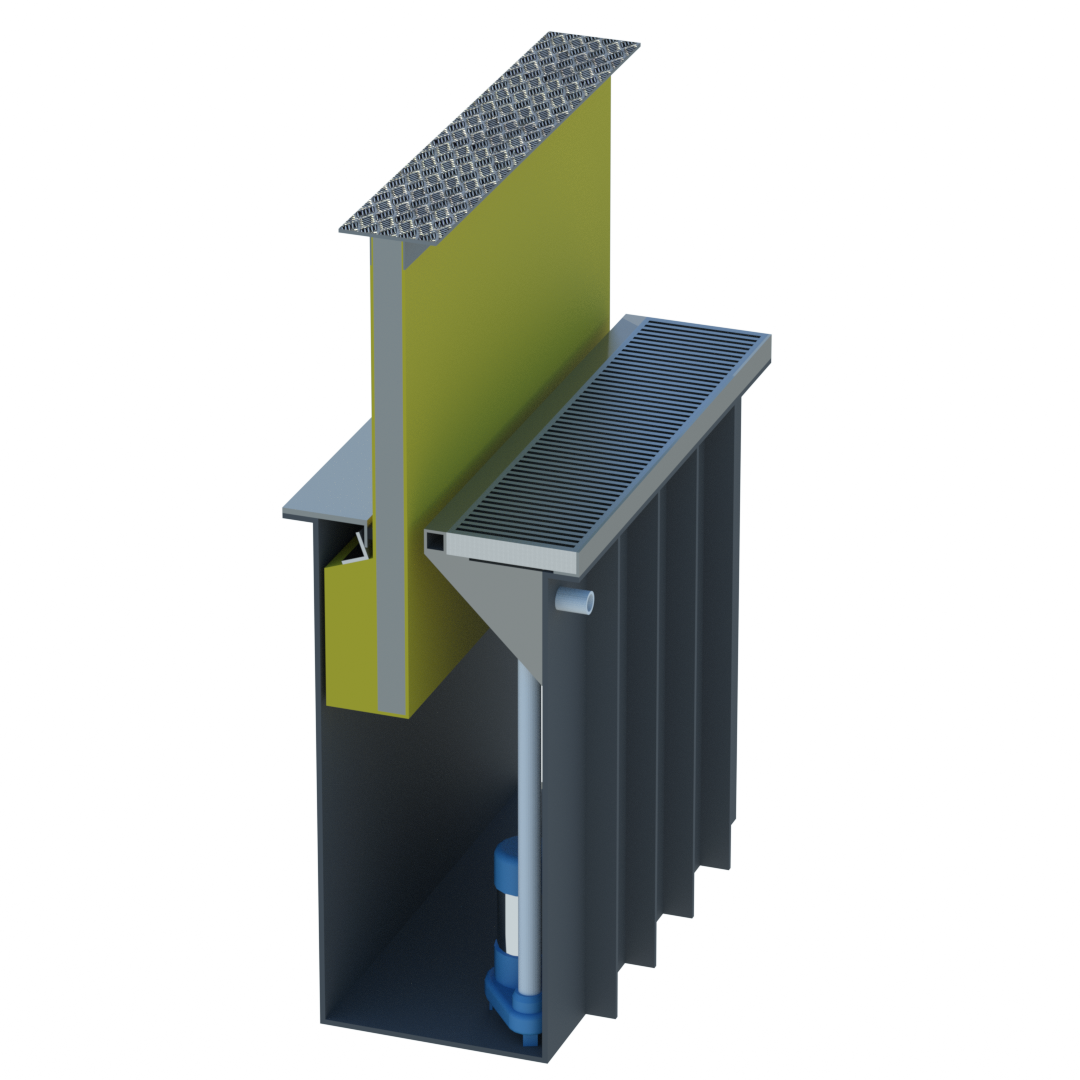 Component Materials
| Material | Description | Components |
| --- | --- | --- |
| Aluminium | 6082 Aluminium is light weight, has excellent corrosion resistance and is the highest strength of the 6000 series structural alloys used in highly stressed applications such as bridges, cranes and marine environments. | Buoyant barrier internal frame |
| Concrete | C1 Concrete exposure class for brackish, saltwater, marine applications and potential acid sulphate soil (PASS) and acid sulphate soil (ASS) environments in permanently submerged or zones subject to repeated wetting or drying. | Interception chamber body |
| HDPE | High Density Polyethylene (HDPE) plastic is a ridged high tensile strength sheet. The material is sturdy and resists vigorous handling, stabilised against ultraviolet light, is resistant to both hot and cold extremes and is used in the mining, oil/gas, agriculture, marine and chemical storage industries. | Buoyant barrier surfaces |
| Hot-Dip Galvanising | Galvanising provides outstanding corrosion performance in a wide variety of environments. The galvanising process creates a durable, abrasion-resistant coating of metallic zinc and zinc-iron alloy layers which are bonded metallurgically to the steel and completely covers the item providing a number of significant advantages. It provides outstanding toughness, resistance to mechanical damage and slows corrosion to about one sixteenth that of steel. | Interception chamber grates, frames and fasteners |
| Polyurethane Foam | Polyurethane Foam has a closed cell structure and has better insulation properties then many other insulation materials. Polyurethane foam is widely used for marine buoyancy. One cubic metre of 35kg/M³ polyurethane foam would have a positive buoyancy of 965kg. | Buoyant barrier core |
| Stainless Steel | 316 Stainless Steel is a chromium-nickel-molybdenum austenitic stainless steel with good strength and excellent corrosion resistance, as supplied in the annealed condition with a typical brinell hardness of 175.Characterised by high corrosion resistance in marine and industrial atmospheres. The addition of 2% to 3% of molybdenum increases its resistance to pitting corrosion and improves its creep resistance at elevated temperatures. | Buoyant barrier internal frame fasteners |

Flow Defence™ is protected by Trade Mark Number 1880447
Flow Defence™ Flood Barrier is Protected by International Granted Patents WO/2015/120516
© 2022 Flow Defence™ Pty Ltd